(bclee's) RATS!


Updated October 4, 2001.
RC(0.1)1m0f15rB--C+++D++F-NS+O2cOCSa#

---
Looking for rat related advice?
rathelp@yahoogroups.com
ratinfo@yahoogroups.com
NEW RAT AND MOUSE HELP EMAIL ADDRESSES!
As a consequence of having one of the oldest and (for reasons that are completely beyond my comprehension) most popular rat web sites on the web, I get a LOT of email. Far too much to keep up with, unfortunately. So unless you have a very specific question for me and you don't mind waiting (maybe for all of eternity) for an answer, I'd like to suggest a better alternative: send your rat related questions to one of the following email addresses. Your message will go to a list of volunteers (myself and about a dozen others) at least one of whom will answer your question, often within 24 hours.
rathelp@yahoogroups.com: This list is for urgent rat questions, such as questions about medical problems. We try to answer these questions as quickly as possible, but when in doubt, see your vet! You may also want to visit the RatHelp list homepage and search the archive.
ratinfo@yahoogroups.com: This list is for more general, less urgent questions. You may want to check the FAQs page listed below before asking!
---
On this page you will find stories and images of my rats, and probably more about them and rats in general than most any normal human being would ever want to know. (Such as my unique reverse psychology technique for keeping rats in their cage, a seemingly endless and rambling history of what kind of cage I have kept them in, and what I feed my rats.) You can also see some genuinely useful pages, most of which I have moved from this site to the RMCA site, such as my lists of recommended rat vets and rat and mouse FAQs and articles.
---
Recent additions to this page:
For the most part, this page has remained unchanged for a very long time. So recent has sort of lost its meaning.
Useful Rat Pages I wrote and/or maintain for the RMCA:
You can find a lot of useful info starting at The RMCA Resources Page including:
My Rat Pages on this server:
Other Rat Pages I'm (at least in part) Responsible for
---
I used to have a huge list of links to useful rat pages here, back in the days when such a thing was managable. Many early rat web pages battled to for who would have the most complete survey of rat sites on the web. One by one other sites fell to my mightly list. Then about a year later (in 1996?) Yahoo came along, and it was all over, so I more or less gave up. I maintaned a similar list on the RMCA web site which Virginia has taken over, so click on the link above to visit it.

The chances that these links still work are small . . .
---
Hey kids! Check out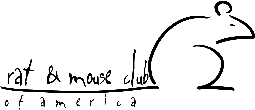 It's got way too much great stuff on it (and I worked way to hard on it) for you not to! You wouldn't want to see uncle Brian cry, now, would you?
---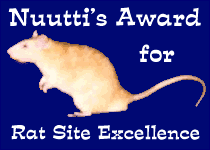 ---
Image credits: Rat skeleton, ufo.
---
[home]





[rock art] [brian's somewhat less useful page] [rat page]

Why are you here? / What does it all mean? / bclee@umich.edu